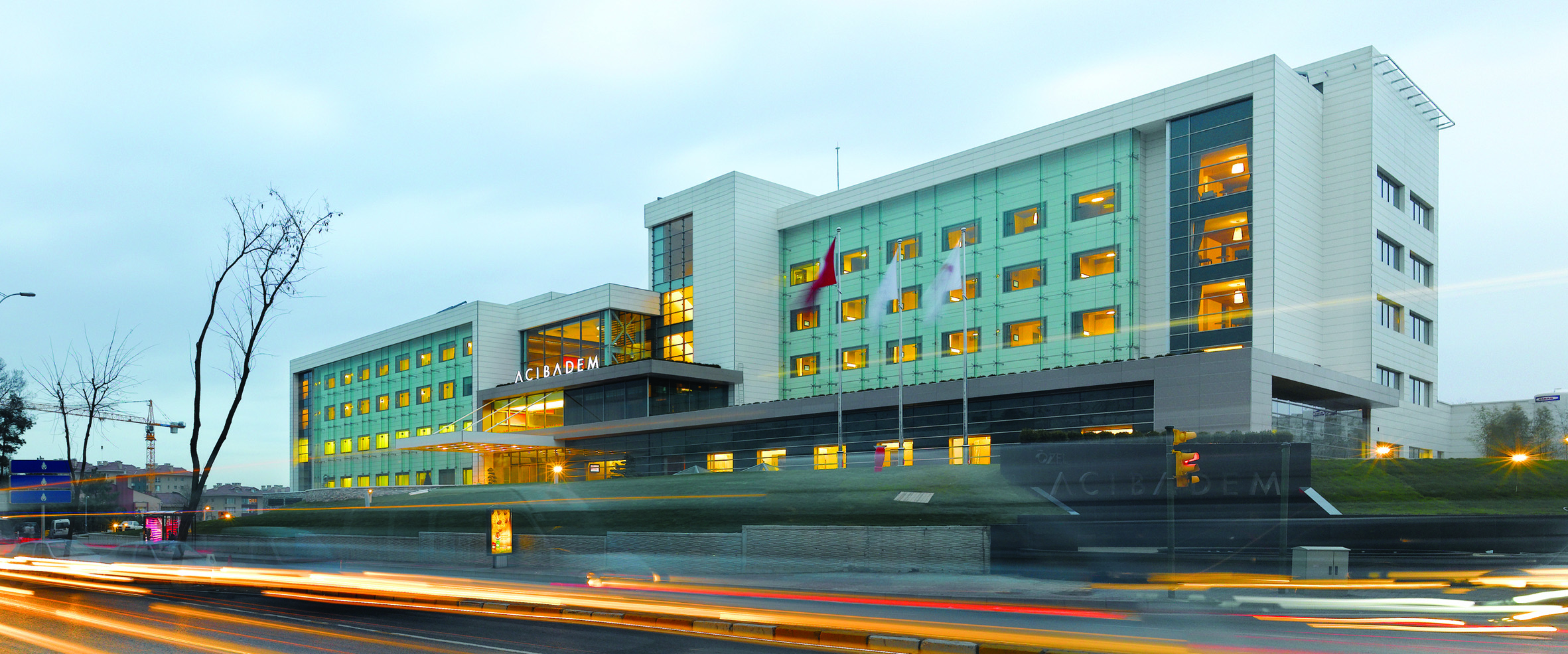 Acibadem has been the most valued private healthcare services provider in Turkey, since 1991. We provide comprehensive diagnostic and treatment services by employing the highest calibre health care professionals, state-of-the-art medical technology, robust infrastructure and JCI* accredited medical standards. We operate 16 full-service general hospitals and 8 outpatient clinics.
Acıbadem is a reference center for many complex treatments that require advanced technology and experience. Our 5 Cancer (surgery, radiotherapy, chemotherapy), 10 Heartcare (pediatric and adult), 9 Fertility (IVF), 5 Transplant (liver, kidney, bone-marrow), 3 Spine and Joints, 1 Sports Medicine, 6 Nuclear Medicine and 3 Robotic Surgery centers are all nationally and internationally reknowned reference centers serving with their latest technology assets and highly regarded physicians.
Acıbadem is actually an integrated healthcare services network offering services beyond hospitals: Acıbadem Project Management designs, constructs and equips turn-key hospital projects in Turkey and abroad. Acıbadem Insurance provides health and life insurance and TPA** services. Acıbadem Mobile provides healthcare services on the road, at home, in the office, at remote industrial sites as well as conventional emergency evacuation, ambulance and tele-medicine services. A-Plus provides facility management services such as catering, laundry and cleaning to hospitals of all sizes. Acıbadem Labs provides the largest spectrum of laboratory services including genetics, pathology, stem cell, and cord-blood banking.
Finally, Acıbadem University is dedicated to enriching the Group's medical sector expertise through the training and education of future generations of health care professionals, with its medical faculty, nursing and administrative schools.
As the first healthcare institution publicly listed in the Istanbul Stock Exchange, Acıbadem takes pride in re-investing in Turkey and the healthcare industry. With its unwavering commitment to offering accessible, comprehensive, reliable and the highest quality services, Acıbadem continues in its unrelenting efforts as the premier health provider in the region. Acıbadem Sistina Hospital in Macedonia, hereby, is the first step in Acıbadem's international growth ventures.
Acıbadem is now a part of a larger global network known as International Healthcare Holdings (IHH). IHH, is a joint investment of the Malaysian Khazanah, Japanese Mitsui and Turkish Aydinlar Family. Acibadem is a part of this group since January 2012. It operates a wide network of hospitals and clinics in Malaysia, Singapore, India, China and Brunei, under the Parkway, Pantai and Apollo brands, and also runs IMU, the International Medical University of Malaysia. Since July 2012, IHH is jointly listed on the Kuala Lumpur and Singapore Stock Exchanges and is, globally, the second largest healthcare company by its market capitalisation. IHH has growth plans in Indo-China, Southeast Asia, the Balkans, former Soviet countries, the Middle East and North Africa.
*JCI: Joint Commission International / **TPA: Third Party Administration