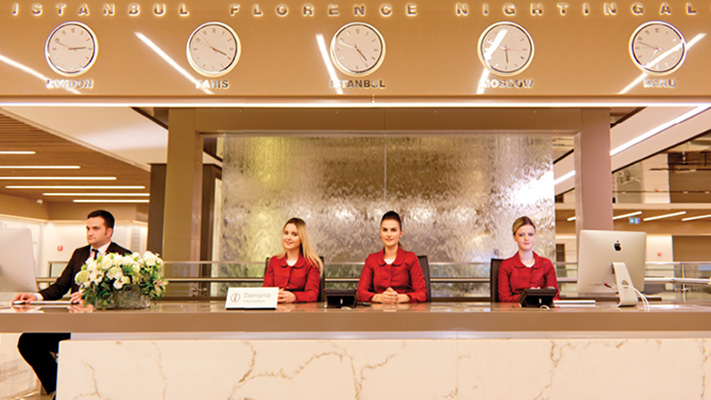 Istanbul Florence Nightingale Hospital, as Florence Nightingale group's fifth hospital is put into service in Istanbul's center Şişli, has 50254 m2 closed area with a total of 18 stories. The heliport area on the roof of the building is structured appropriately for the landing & take-off all kinds of air ambulance helicopter. Istanbul Florence Nightingale Hospital, being built as smart hospital, received the title of our country's first "Green Hospital Building" with TUV Hessen Green Building Certificate.
The hospital, which the construction started in 2008, has 219 patient beds, 51 intensive care beds, 11 surgery rooms, all equipped with laminar airflow, and 2 delivery rooms. All surgery rooms can be connected to 300-seat conference room and international destinations as audiovisual, thus, permits the interactive medical education and scientific activities.
Istanbul Florence Nightingale Hospital, is organized with its medical staff – technological equipment – technical substructure triangle for meeting health service requirements of not only Istanbul and Turkey but at the same time for meeting health care of especially Middle-East, East Europe and neighboring countries.
Almost every branch of health services are available in Istanbul Florence Nightingale Hospital where experienced physicians who have worked for many years in group Florence Nightingale Hospitals, will be on duty.
The hospital where 23 years of Florence Nightingale experience is combined with superior comfort and the latest technology would put up patient satisfaction even to higher levels. Istanbul Florence Nightingale Hospital has brought many innovations in the health care field together with itself.
In high-tech organized report room physicians can establish video and audio connectivity with other physician anywhere in the world, can examine patient reports and exchange views mutually. Thus, a second opinion opportunity is provided to patients and at the same time a prior opinion of our physicians can be provided for patients who come to our country from abroad.
With EOS device, which is introduced for the first time in our country the risks associated with radiation dose are minimized for patients by using very low dose 2D / 3D Xray radiation in orthopedic imaging. Regardless of their length the frontal and lateral digital images can be obtained simultaneously, the display of the skeletal anatomy is provided with 3D rendering method.
With check-up wellness center, risk analyses are made before people becomes sick. A mission is undertaken by directing lifestyle changes based on preventive medicine. Tailor-made programs are created to raise the quality of life.
Istanbul Florence Nightingale Hospital with its laboratories that has most advanced gold standard technologies and highly qualified specialists, Radiology and Nuclear Medicine Center and Intensive Care Units has established its infrastructure to deliver services that require expertise in every field of medicine, has reached the status "Center of Excellence" in the following areas:
IVF Center
Istanbul Spine Surgery Center
Physical Therapy and Rehabilitation Center
Breast Health Center
Dermatocosmetology Center
Istanbul Minimally Invasive and Robotic Surgery Center
Reflux Center
Check-up Center